Labor Day is behind us, cooler nights and shorter days, but fall brings new happenings to Yolo County. Here are a few events taking place in September:

An Evening with Lyle Lovett and his large band
An Evening with Lyle Lovett and his Large Band
Mondavi Center Presenting Program
Lyle Lovett has broadened the definition of American music in a career that spans 14 albums over three decades. Coupled with his gift for storytelling, the Texas-based musician fuses elements of Americana, swing, jazz, folk, gospel and blues in a convention-defying manner that breaks down barriers. Especially with his Large Band, Lovett's live performances show not only the breadth of this Texas legend's deep talents, but also the diversity of his influences, which make him one of the most compelling and captivating musicians in popular music.
Friday, September 7 at 8:00pm
1 Shields Ave, Davis, CA 95616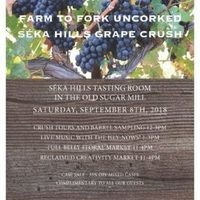 Farm to Fork Uncorked – Séka Hills Grape Crush- Clarksburg
Join Séka Hills in a behind the scenes educational experience. For the first time, guests will see where the Séka Hills wines are made and will tour the crush pad, tank room and barrel room. A guided barrel sampling will complete the experience.
CRUSH TOURS AND BARREL SAMPLING 12-3PM
LIVE MUSIC WITH THE HEY-NOWS! 1-3PM
FULL BELLY FLORAL MARKET 11-4PM
RECLAIMED CREATIVITY MARKET 11-4PM
CASE SALE – 35% OFF MIXED CASES
COMPLIMENTRY TO ALL OUR GUESTS
Saturday, September 8 at 11:00am to 5:00pm
Seka Hills in the Old Sugar Mills 35265 Willow Ave, Clarksburg, CA 95612

Porchfest Winters
Winters is hosting our first ever Porchfest! This family friendly event will be betwen Main and Russell on Sunday, September 23rd from 12 pm to 6pm. There will be activities, food, specailty vendors, and ofcourse live local music! Admission is Free to the public.
Sunday, September 23 at 12:00pm to 6:00pm
411 Abbey St, Winters, CA 95694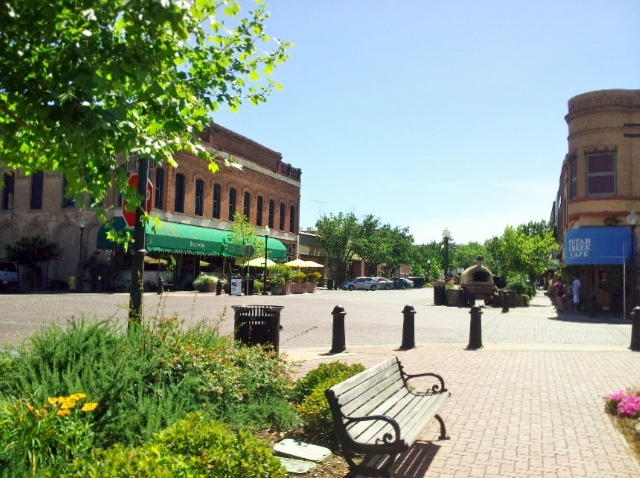 Winters Fourth Friday
Winters Fourth Friday this month is on September 28. Fourth Friday is a celebration of artisan beer, wine and farm to table food that runs March thru October. Join Winters for a community dinner family style down Main Street 6pm-9pm.
https://discoverwinters.com/event/fourth-friday-2018/

The Village Feast
The Village Feast commences upon the closing of Saturday's Davis Farmers Market—America's Favorite Farmers Market—in celebration of September's Sacramento-region Farm to Fork Month. Yolo County puts the "farm" in America's Farm to Fork Capitol, and so we come together to enjoy and honor the bounty of our local farmers. This event goes beyond a delicious meal, there will be a silent auction held as a fundraiser to benefit Davis Farm to School and Les Dames D'escoffier Sacramento. Both organizations provide support of early and continued education around food and agriculture. All proceeds from the Village Feast ticket sales and silent auction will go towards these missions.
We look forward to you joining us. Please bring your own table settings, plates, silverware, glasses, and napkins so you can enjoy this communal meal. Aperitifs include olives, nuts, and local light wines, fresh baguettes, and bowls of salt. The meal will be served family-style, with passed platters of heirloom tomatoes drizzled with local olive oil. Steamed and grilled end-of-season vegetables, hard-boiled eggs, and bowls of garlic-scented aïoli will follow the tomatoes. Next comes the grilled lamb. The bottles empty, the bread is eaten, and dessert will be served—a pear galette, with a crisp crust and local pears bursting with juice.
DATE AND TIME:
Sat, September 29, 2018
1:00 PM – 4:00 PM PDT
LOCATION:
Central Park Gardens
Davis, CA 95616
For Tickets: https://www.eventbrite.com/e/the-village-feast-tickets-45205944196
Saturday, September 29 at 1:00pm to 4:00pm
Central Park Gardens Davis, CA 95616 Central Park Gardens Davis, CA 95616
And in preparation for Halloween what better than to go "bats"

Bat Talk and Walks
Did you know that colonies of migratory bats live under the Yolo Causeway during the summer? Join the Yolo Basin Foundation for a summertime Bat Talk and Walkevent and learn all about these amazing and beneficial mammals.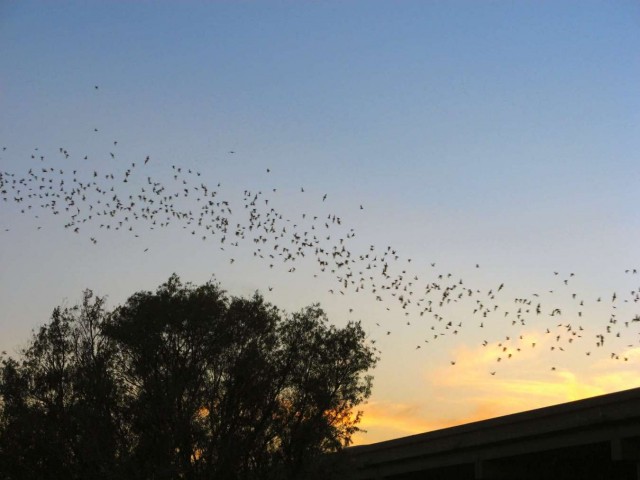 photo courtesy of Barbara Steinberg
Following a 45 minute indoor presentation on bat natural history, the group will carpool out to the Yolo Bypass Wildlife Area to watch the "flyout" of the largest colony of Mexican free-tailed bats in California. The bats emerge in long ribbons as they head out to hunt for insects for the night. To get to the viewing site, the group will caravan through wetlands and rice fields to an area not open to the public.
The whole experience takes about 3 hours. This is a family friendly event! There is a small amount of walking. Those in wheelchairs or unable to walk may view the bats by car. Please let us know if you have special needs.
Tickets:
You may reserve up to six spots per family. Adults are $14 each. Children 15 and under are free. All reservations are final. Events begin at the Yolo Bypass Wildlife Area Headquarters. Click here for directions to our Headquarters.
Wednesday, September 5
More dates through December 21, 2018
45211 Co Rd 32B, Davis, CA 95618